The Story of Woodex
Woodex began life early in the 20th century in Wakefield, Massachusetts, as a trademark of The Neveroil Bearing Company, which described Neveroil's oil-impregnated wood bearings. Later renamed The Wakefield Corporation, the company transitioned to powdered metal fabrication, and the Woodex trademark and shop were sold in 1966. Relocated to Robinhood, Maine, the shop became Woodex Bearing Company, Inc. In 1980, after a change of ownership, Woodex moved to its current location on the Bay Point Road in Georgetown, Maine.
Employing thirty three people, Woodex manufactures oil-impregnated wood bearings and MECO Shaft Seals. Our fully-equipped plant blends manually-operated, conventional machine tools with modern, numerically-controlled equipment in a 17,000 square foot manufacturing facility. In January, 2011, Woodex transitoned to an Employee Stock Ownership Plan (ESOP). This transfer of ownership to the employees via the ESOP generated the fifth "set" of owners of Woodex since it's inception in 1908.
Woodex screw conveyor hanger bearings are available in Conveying Equipment Manufacturing Association standard sizes from 1" through 3 7/16", and custom models are made for virtually any shaft diameter.
Woodex manufactures the ONLY split screw conveyor hanger bearings with a true bore (they're split BEFORE they're bored; no shims required).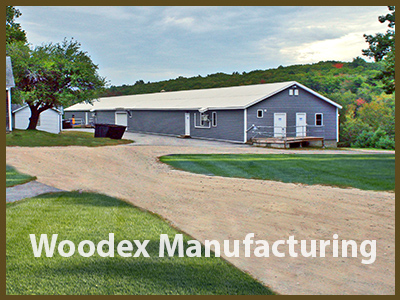 All manufacturing processes for Woodex bearings are contained in our Georgetown facility. Woodex emphasizes quality design and manufacturing and first-rate customer service, and we are proud to mark our products "Made in Maine". Woodex believes in working closely with our customers, and we cordially invite customers who find themselves on the southern Maine coast to visit our plant.
Early Woodex Bearings